We're very excited to announce and celebrate the 2020 Claremont Savings Bank Foundation grant recipients. We are grateful for the important work you do for our communities.
Grant Recipients
2020 Grant Recipients

Dedicated to providing low cost family recreation and entertainment and to enhance the quality of life through recreation. This grant will be used to update their electrical transformers to more efficient and cost effective units.
Provides an operational network that helps to sustain individuals and families by connecting free items to those who most need them by redistributing resources of diapers, Baby Blessing Baskets, Welcome Home Baskets, new and gently used clothing, cleaning supplies, hygiene products and other items for individuals who are homeless or transitioning from homelessness and poverty towards self-sufficiency. This grant will be used to purchase items to sustain these giving projects.
Bellows Falls Historical Society
Establishes and maintains the museum for the exhibition of historical artifacts and implements relating to the history and growth of the area. This grant will be used to create and install interpretative signs on the Bellows Falls Historic Riverfront Park and Trail System to educate users on the history of the area.
Provides community access to reclaimed bicycles and bike repair skills to encourage safe riding as a means of affordable transportation, self-sufficiency and overall wellness. Grant funds will be used to offset the cost of refurbishing bicycles for the community, to provide helmets and locks and to hire another part-time mechanic to support the increased demand since the start of the COVID-19 Pandemic.
Catholic Charities New Hampshire
d/b/a New Hampshire Food Bank
Feeding hungry people by soliciting and effectively distributing grocery products and perishable foods and offering innovative programs through a statewide network of approved agencies; by advocating for systemic change; and by educating the public about the nature of, and solutions to, problems of hunger in New Hampshire. This grant will be used to provide food to hunger relief agencies in Claremont, NH.
Charlestown Children's Fund
To meet multiple needs of children in our community by working with the school nurses to provide clothing, personal hygiene products, and funds or gift cards for family emergencies.
Charlestown Senior Center
Providing activities for and supporting local seniors. Funds will be used to upgrade the fire alarm system.
Providing families in and around Sullivan County with developmentally appropriate early education and child care by well-trained early education professionals in an atmosphere that is positive and nurturing for children of diverse backgrounds and abilities between the ages of 6 weeks and 12 years. Grant funds will be used to complete updates to the staff bathroom and storage area.
To purchase and install single station smoke and carbon monoxide alarms in residential homes. In recent years, data from the National Fire Protection Association has shown an up tic in fires of those occupancies and that they are also often deficit in smoke and carbon monoxide alarm protection.
Claremont Learning Partnership
Increasing educational access, attainment, and opportunity for all. This grant will be used to make building updates for the One-4-All Child Care Center and the One-4-All Drop in Child Care Program to satisfy new NH Child Care Licensing guidelines.
Sponsors a wide variety of events in music, theatre, dance and the visual arts and to develop community understanding of the arts and to educate as well as entertain. Grant funds will go towards repairing the stage flooring to make them safe for barefoot dancers, gymnasts and actors.
Claremont Parks and Recreation Department
Dedicated to providing quality recreational facilities, programs and services tco enhance the quality of life for the residents of Claremont and the surrounding region. This grant will be used to replace the outdoor movie equipment.
Serving senior citizens by providing educational, health, nutritional, artistic, social and recreational opportunities and resources. Grant funds will be used to complete parking lot maintenance.
Providing nourishing meals and other support to the people of Claremont and the surrounding communities. This grant will be used to make required safety changes to the dining hall to allow inside dining and to serve as a cooling and warming station throughout the year.
Claremont Youth Baseball & Softball Association
Promotes baseball and softball to have a positive impact on the lives of the Claremont area youth, their families and the community by teaching good sportsmanship. This grant will be used to update catcher's protective equipment for 18 teams to meet a new safety certification.
Enhancing oral health through education and access to care for all individuals and families. Grant funds will be used to equip their new and expanded location.
Connecticut River Valley Special Olympics
Helping persons with intellectual disabilities participate as productive and respected members of society at large by offering them a fair opportunity to develop and demonstrate their skills and talents through sports training and competition and by increasing public awareness of their capabilities and needs. These funds will be used to update the athletes' uniforms.
Council on Aging for Southeastern Vermont, Inc.
d/b/a Senior Solutions
Supporting people so they can age in the place of their choice, with the support they need and with the opportunity for meaningful relationships and active engagement in their community. This grant will support the growing "Friendly Visitors" and "Vet to Vet" volunteer programs.
Fosters hope and build community in the Upper Valley by organizing volunteers to help low-income homeowners address their most urgent home repair, weatherization, and accessibility needs. Grant funds will go towards the Ramps and Roofs Campaign to provide upgrades to area homes.
Dismas of Vermont - Hartford Dismas House
Working to reconcile former prisoners with society and society with former prisoners. In reconciliation, wholeness is restored to the former prisoner and to society. This grant will assist with bringing a keynote speaker to their annual fundraising event.
Edgar May Health and Recreation Center
Provides area residents of all ages and abilities with the opportunities and resources to live an active and healthy lifestyle. Grant funds will go towards the Reaching New Heights project: an outdoor climbing area for youth and families to exercise in a fun and unique environment. It will feature a forty foot climbing tower - the first in this region - with six stations and a ropes course element to both challenge experienced athletes and reach youth of varied interests, abilities, and fitness levels.
Preventing homelessness for veterans and their families who reside in New Hampshire and Vermont by providing financial assistance to providers for rent, mortgage payment, utilities, fuel and the recently added service dog program. Grant funds support all of these efforts.
Full Circle Farm Therapeutic Horsemanship
Providing the benefits of Equine Assisted Activities and Therapies to individuals living with special needs. This grant will support their program working with the Child Advocacy Centers of Sullivan and Grafton Counties to host 8 at-risk children once a week for 7 weeks. These sessions are intended to help the children heal and have positive experiences connecting with horses and people while also learning about trust, respect, communication and sportsmanship.
Established to encourage an appreciation of the visual arts while furthering the revitalization of downtown Springfield. Serving the community by offering opportunities for learning and participation in the creative process and providing a marketplace for artists. Funds will support general operations and a new part time digital marketing position.
Promoting the health of people in the Greater Upper Valley who are in need and do not have the means to pay, by providing free medical and dental care, mentoring aspiring health care professionals and advocating for improved access to dental and health care. Funds will be used for a portion of the expenses associated with re-opening a satellite medical clinic at the Claremont Soup Kitchen.
Lake Sunapee Home Care and Hospice
dba Lake Sunapee Region VNA
Provide health care and hospice services for individuals and families in homes and community settings, fostering continuity of care across settings and enabling people to stay in their homes for as long as possible. The grant will support the Homemaker Grant Program providing supportive services that assist low-income and elderly clients with activities of daily living and help them to remain in their own homes safely and independently.
Library Arts Center of Richards Free Library
Sustains a vibrant, inclusive and highly visible arts community that provides a wide variety of engaging, enriching events, and affordable educational experiences for both artists and patrons of the arts. Grant funds will support the continuing remote community arts programming.
Expanding minds, sparking connections and building stronger communities by providing news and information. This grant contributes to the ongoing signal improvement plan for the Keene area.
Newport Food Pantry
Committed to acquiring and distributing food and household/personal care items and nutritional awareness information to families and individuals in need. Grants funds will be used to support the additional costs for supplies needed to operate during the pandemic.
North Charlestown Community School
This grant will support the construction of a yurt at the school to serve as an outdoor classroom. The yurt will allow more opportunities for outdoor learning which has extensive benefits for the students.
Olive Pettis Library Trustees
Providing services for the betterment of the community through free public access by being responsive to the needs of the community and preserving town history. This grant will be used to develop a new ADA compliant walking trail and courtyard for the public to enjoy.
River Valley Animal Protection League
Provides a shelter for homeless cats with the objective of finding each one a forever home; improves the quality of life in our community through Trap/ Neuter/Return programs; supports low-cost spay/neuter clinics; distributes donated pet food through the local food pantry; encourages the humane treatment of all animals and supports the enforcement of animal welfare laws. Funds will be used to purchase appropriate cages for the ongoing isolation and/or housing of cats that are under their care.
Provides a pre- vocational training program for individuals with mental and physical challenges based upon baking, non-riding equine, horticultural , agricultural and similar pursuits instilling confidence and self- sufficiency. This grant will be used for building maintenance.
Celebrates the great American sculptor Augustus Saint-Gaudens, whose work continues to enrich our culture and inform our understanding of this period of American history. Funds will support the Summer Concert Series for 2021.
Provide professional clothing, educational opportunity and inspiration to those seeking economic independence; to create a community where each person feels comfortable in their skin, confident in their abilities and competitive in the marketplace. Grant funds will support the general operating fund.
Facilitate learning, self-education and recreation for the whole community; to encourage children to become life-long readers; to provide library materials, programs and services to satisfy patrons' love of books, quest for information and need for recreation; to build and maintain the unique collection of historical materials specific to the Town of Charlestown and the Upper Valley region; and to function as a cultural center for the community. This year's grant will be used to refurnish the library's children's room to be better suited for story hours, craft times and play groups.
Southern Vermont Area Health Education Center
Enhance community efforts to obtain, maintain and retain the primary healthcare workforce in Southern Vermont. Grant funds will support the SVAHC College Student Healthcare Internship Program for 100-hour internships focused on working with health organizations/institutions in the northern Windham-southern Windsor County region.
Southern Windsor County Incubator
d/b/a Black River Innovation Campus
Works to achieve sustainable economic success in Springfield, VT and the surrounding region through programming and opportunities in support of a digital economy ecosystem. This grant will be used to continue developing a digital resource library to be used by BRIC members and visitors and will be also available to be loaned to low-to-moderate income community members who need a device in order to participate in a BRIC program.
Provide a welcoming place where the lives of all persons of differing abilities are enriched through a sense of community. Funds will go towards the Friday Fun Night dinners and weekly cooking classes that draw in nearly 200 participants each week.
Special Olympics New Hampshire, Inc.
Provide year-round sports training and athletic competition in a variety of Olympic-type sports for children and adults with intellectual disabilities, giving them continuing opportunities to develop physical fitness, demonstrate courage, experience joy and participate in a sharing of gifts, skills and friendship with their families, other Special Olympics athletes and the community. This grant will go towards the Athlete Leadership: Leadership and Skills Curriculum Training. The training supports athlete leaders throughout Sullivan County and New Hampshire spreading the message and vision of the Special Olympics movement and providing participants with personal and professional skills to help them succeed in life.
Sports Enhancement for Life
Works with student athletes from the inside out by integrating the mind and body and enhancing mental, social and physical development to build resiliency within student athletes so that they can apply these skills in the real world. Grant funds will support the future of this program to make it available to more schools at no cost to them, including training additional coaches in its principles.
Provide a social framework for education and community service in the areas of gardening, beautification and conservation and to coordinate the activities of the Club with those of the Federated Garden Clubs of Vermont in order to advance our mutual aims. Funds will go towards the annual beautification project to maintain and improve flower beds and planers around the community.
Creating and sustaining an interest in the arts and, particularly, fostering the development of community theater; providing opportunities for the development of skills in all phases of theater including drama, dance, reading, music, and the art of staging and set design; and presenting theatrical works for the enjoyment and instruction of the public. These funds will go toward the bathroom renovation project to make it accessible for all.
Dedicated to providing help and fostering hope to individuals and families in the communities of Springfield, North Springfield and Baltimore. The grant will provide for the food shelf and community lunch programs.
Springfield Humane Society Inc.
Improve the quality of life for animals by providing protection, compassionate care and adoption services for homeless animals. The grant will be used to fund the Spay the Mom program, which provides low-cost, no-cost clinics to spay cats to avoid additional unwanted litters for families whose budgets can't afford veterinary medical care.
Springfield Supported Housing Program
Helps families and individuals who are homeless or potentially homeless locate and secure permanent, affordable housing, and then provides program participants with up to two years of at home case management to address any issues that led to the housing crisis and to pursue positive life goals. This grant will be used to support another case manager to help individuals who are in hotels, assist in housing searches and work toward coordinating relocation efforts in a timely fashion to meet the additional needs as a result of the pandemic.
Organize, promote, host and document low-cost and by-donation listening events showcasing local and regional emerging performers and presenters of original material that entertain, educate, and inspire an underserved, low-income population; boost creatives from within the community; contribute to overall community pride; and bring outside dollars into the local economy. Grant funds will help fund a project to complete a webstream infrastructure and camera upgrades allowing performers a quality way to reach their audience and maintain their livelihood.
Sullivan County Humane Society
Improve the quality of life for animals within our county and work to end animal overpopulation, abandonment and neglect. Grant funds will allow the expansion of the low cost spay/neuter clinics to help fund more families who cannot afford them and to also TNR (trap neuter return) cats to cut down the over population of feral and stray cats.
Actively engage in preservation and revitalization efforts related to historic properties and landmarks to ensure the protection of our architectural and cultural heritage. This grant will support the construction of a new prep area allowing caterers and event sponsors adequate space to prepare and cleanup for events.
Inspiring, organizing and empowering members of the community, neighboring towns and the Upper Valley region to integrate environmentally, economically and socially responsible practices in all aspects of their lives. Funds will support the emergency relief fund and the Grow Your Own Garden kits that are distributed free of charge to individuals and families who are interested in producing their own nutritious vegetables to increase long-term food security.
Supports and strengthens families for optimal development with a wide range of free parent education, support groups, education and events. Grant funds will support their new property that will accommodate all of their programming under one roof, while still providing unique services to fit the needs of each family.
Trinity Episcopal Church Weekend Backpack Program
To provide weekend meals to hungry children identified by Claremont School District nurses at Maple Ave., Bluff, Disnard and Claremont Middle School. These children are primarily fed by the school lunch program and the backpacks provide two+ balanced main meals for the weekend, cereal for breakfast as well as fresh fruit, a loaf of bread and some nutritious snacks.
Turning Point Recovery Center of Springfield, VT
To facilitate recovery by providing a substance-free environment, drop-in center, meeting location, recovery coach program, facilitated groups, substance-free social functions, transitional housing program and a prevention/resource referral network for services in the area. Grant funds will be used for physical repairs, maintenance and upgrades to their main building.
Enhance the safety and well-being of victims and survivors of domestic and sexual abuse and stalking through empowerment and advocacy; to create a community responsive to all victims and survivors through education, outreach and accountability; and to empower the community to establish a safer culture. This grant will provide critical repairs needed at the emergency shelter to ensure all entrances are safe and handicap accessible.
Increase access to quality housing and supportive services to meet the pressing and long-term needs of the Upper Valley community. Grant funds will support the Supportive Services Program which connects housing residents to social services and provides support to tenants where there are gaps.
Enhancing economic development and the revitalization of under-served communities through education in the arts, entrepreneurship and STEM fields. Individuals gain skills that make them more competitive in the local workforce, develop new businesses, network and have fun putting shape to creative ideas. The grant will go towards adapting the educational curricular offerings to pandemic and post-pandemic environments which includes technology and programmatic expenditure to allow for both on site classes with appropriate social distancing (and separation equipment), transmission equipment for virtual learning environments, broadband subscriptions and services, and educator expenses to produce the content that is both useful to our constituency and adaptable to virtual learning environments.
Union Church (fiscal sponsor for West Claremont Center for Music and the Arts)
Bringing professional music and arts experiences, diverse musicians and educational opportunity to the under-served and low-income community. The grant will support a new art therapy program and the Youth Arts Enrichment Initiative.
Serves people struggling with poverty by providing food, shelter, education, service coordination, and other support. Grant funds will support the Haven's Food Shelf operation, serving over 4,000 Upper Valley families with more than 12,000 individuals in 2019.
Valley Court Diversion Programs
Helps residents of Sullivan, Lower Grafton, and Windsor Counties, access Restorative Justice programs by offering education, provider referrals and support to empower those served to improve their quality of life while lowering the likelihood of re-offending in the future. The grant will support their Sullivan County Juvenile Court Diversion program empowering youth to thrive.
The Vermont Civil War Hemlocks Inc.
Committed to maintaining quality and accuracy in the sharing of Civil War history and making the Civil War come alive for people through meetings, demonstrations and battle recreations. The grant will help purchase a new trailer to transport their Civil War cannons to events around NH and VT.
Visions for Creative Housing Solutions Inc.
Provide residential options, services and support designed to meet the housing needs of adults with developmental disabilities and similar disabling conditions while fostering growth and independence through vocational, social, and recreational opportunities. Grant funds will be used to renovate a new property to house 10 individuals from their waitlist with 1 open bed for respite care.
Provide healthy food to eligible Weathersfield residents and be a dependable supplement to regular household food supplies and in emergency situations. The grant will be used to purchase a commercial refrigerator.
West Central Behavioral Health
Promote the health and quality of life of individuals, families and communities by providing treatment for mental illness and substance use disorders, while helping to reduce the stigma associated with these challenging conditions. This grant will be used to purchase much needed new furniture for the common areas at Arbor View Residence in Newport, NH.
Working to end gender-based violence through survivor-centered advocacy, prevention, education and mobilization for social change. These funds will support the Emergency Shelter and Housing Program which is available to survivors and their children in the Upper Valley who are fleeing violence and in need of safe, confidential living arrangements or who are homeless due to the violence.
Previous Grant Recipient Highlights

Gallery at the VAULT
Gallery at the VAULT's mission is to encourage an appreciation of the visual arts and crafts while providing opportunities for learning and participation in the creative process. Opportunities for the public to participate in the creative process of craft and art making include workshops for children and adults, presentations and special exhibits.
Last year's grant supported free Cartoon Drawing workshops for students, which were offered during two fall school inservice days when students were out of school. The dynamic teacher, Emma Hunsinger, is a graduate of the Center for Cartoon Studies and has had her work published in the New Yorker. She also offered a series of three online classes for students this summer.
Harbor Homes (dba Harbor Care)
Founded in 1982 in response to deinstitutionalization, Harbor Care opened its first group home for previously institutionalized individuals with significant mental health disorders. Since then, the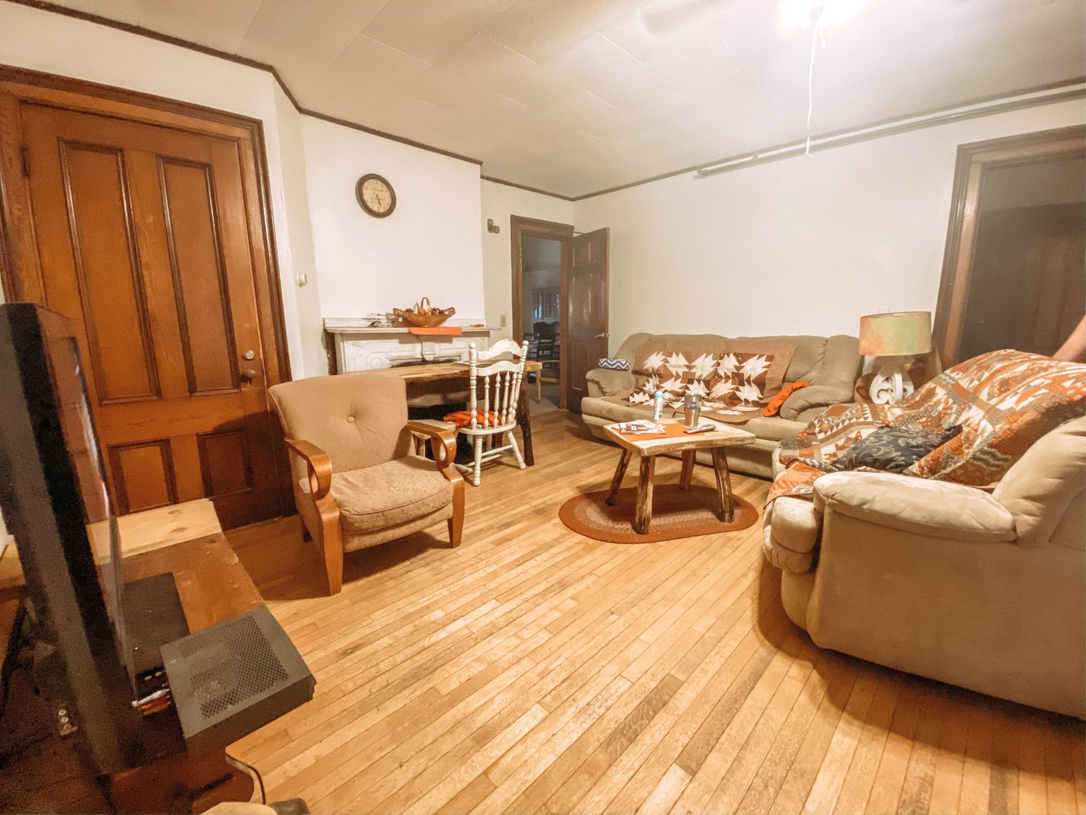 agency has grown to become a leader in establishing effective programs to address homelessness across New Hampshire. Through more than two dozen affordable housing, healthcare and support programs, 5,000 community members each year work towards maximum independence.
Grant funding supported Harbor Care's permanent supportive housing facility in Claremont. This nine-bedroom facility provides long-term housing and supports for individuals who are elderly and/or disabled and experiencing homelessness, with first preference given to veterans.
Lake Sunapee Region VNA & Hospice (LSRVNA)
In 2020, they are celebrating a major milestone with the agency's 50th Anniversary.LSRVNA serves all ages, with the majority of care for persons age 65+, in more than 32 towns spanning Grafton, Merrimack and Sullivan counties. They help patients recover from or manage acute and chronic illnesses, heal after accidents and surgery and age in place safely and also provide compassionate hospice care and follow-up bereavement support. The overriding goal of LSRVNA is to help people remain in the homes they love for as long as possible.
In 2019, the Foundation grant supported their Homemaker Grant Program. This supports senior/lower income neighbors who are unable to perform all the activities necessary to keep their homes safe and running appropriately by offering services that help bridge the gap between ability and need. Services include light housekeeping, meal preparation, grocery shopping, errands, transportation, laundry, companionship and more. In 2019, 100% of their Homemaker Grant clients were residents of Sullivan County.
Library Arts Center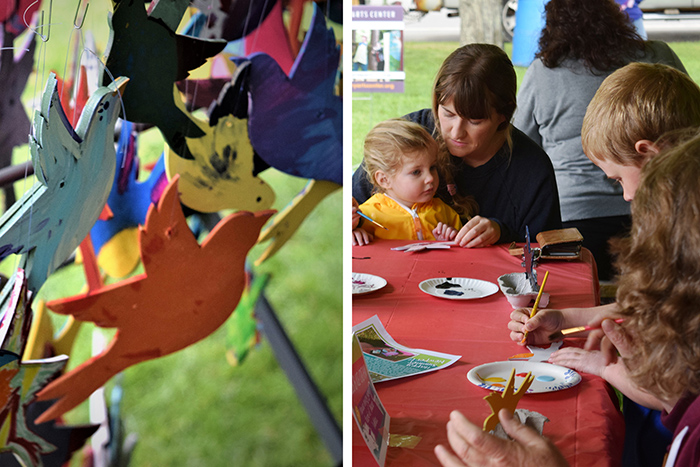 Located in the heart of downtown Newport NH, the Library Arts Center is a creative gathering space where friends, family, neighbors and visitors can connect and share in a celebration of artistic inspiration, creative vision and community spirit. More than 5,000 residents from the greater region, including children, families, and senior citizens enjoy Library Arts Center exhibits, performances, classes and community events annually - all provided at little or no cost.
Thanks to the foundation grant, the Library Arts Center was able to implement a series of community arts projects throughout the 2019 Summer, with the goals of engaging community members in the arts in public spaces such as the Newport Farmer's Market to create collaborative artwork to display in public spaces. This funding allowed for several community arts projects to take place over the summer culminating in a Community Arts Night Celebration on the town common. Over 200 community members of all ages came together to paint wooden birds on the Newport Town Common thus creating a large-scale public art project, aptly titled Birds of a Feather.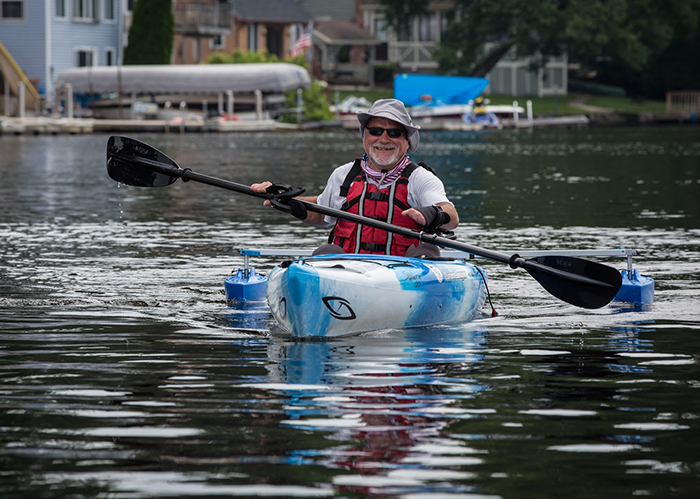 New England Healing Sports Association
NEHSA is a non-profit organization that strives to create sport and recreation opportunities to individuals with disabilities throughout New England and beyond, promoting healing and accomplishment. They host year-round programming, with a focus on downhill skiing, snowboarding, kayaking and paddle boarding, serving over 500 participants annually.
Last year, NEHSA was awarded a grant to be used specifically to help with the costs associated with their kayak program at Sunapee State Beach. Through these funds NEHSA was able to provide 376 kayak lessons during the 2019 summer, providing a safe and fun environment for individuals with disabilities to enjoy their time out on the water.
Senior Solutions (Council on Aging for Southeastern VT)
Senior Solutions has served older adults and caregivers in Windsor and Windham Counties Vermont as the designated Area Agency on Aging since 1973. Headquartered in Springfield, their mission is to promote the well-being and dignity of older adults. They provide information and assistance, case management, nutrition and wellness programs, caregiver support and respite, application assistance, assistance to veterans and other services.
The 2019 grant was used to support and expand their Friendly Visitor and Vet to Vet volunteer visitor programs. They recruit and train volunteers to provide companionship and assistance to isolated elders, veterans and other vulnerable adults. Lessening the effects of isolation and loneliness on older adults enables them to live happier, more fulfilling lives. The Vet to Vet program matches veteran volunteers of all ages with isolated older and disabled veterans.
Silsby Free Public Library
The Silsby Free Public Library is dedicated to facilitating learning, self-education and recreation for the whole community. The library has a special mission to encourage children to be life long readers, to believe in themselves and to accept the differences in themselves and in others. They function as a cultural center for the community by providing performances and programs by artists and educators.
Last year, the grant was used for for the Cooking with Kids program. Thirty children ages 8-13, participated in a 4 week cooking class with their peers. They prepared their very own dishes from "scratch": Waldorf salad, focaccia, tacos and pumpkin whoopie pies. They learned many culinary skills with their own new tools and received a batter bowl, paring knife, heat resistant spatula, measuring spoons and cups and a cutting mat.
Springfield Art and Historical Society
The Springfield Art and Historical Society (SAHS) exists to promote an interest in and a better understanding of the town's lengthy and rich history. In addition to programs on topics of Springfield's history, they provide museum services every week and by appointment so the public can view the current displays. Displays are rotated quarterly to match current programming.
The 2019 grant supported a series of free presentations for public on the history of Springfield, VT. Presenters included Society members with particular expertise in certain aspects of local history,and also affiliated outside experts with special knowledge of artifacts in their collections.
Springfield Community Players
The Springfield Community Players is the oldest continuously performing community theater in the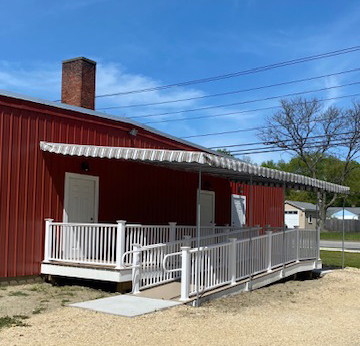 state of VT and has been performing live community theater since 1920. The mission is to create and sustain an interest in the arts and particularly to foster the development of community theater; provide opportunities for the development of skills in all phases of the theater including drama, ballet, reading, music and the art of staging and set design, and to present theatrical works for the enjoyment and instruction of the public.
In 2017, The Springfield Community Players embarked on an extensive renovation project to renovate the theater. With the 2019 grant, they were able to renovate their front entrance from an old worn out ramp to an ADA approved deck and ramp system with new lighting and covering.
Springfield Supported Housing Program
SSHP is a private, non-profit agency that helps families and individuals who are homeless or potentially homeless locate and secure permanent, affordable housing. They then provide program participants with up to two years of at home case management to address any issues that led to the housing crisis and to pursue positive life goals.
Last year's grant was used to supplement funding for their transitional sober living units. Last year they served 120 households and did direct case management and support with them. The funding allowed them to quickly transition units after becoming vacant and to support households while in their housing.
Turning Point Recovery Center
Turning Point Recover Center offers peer-based substance misuse recovery services as part of the Vermont Recovery Network and are currently serving the communities of Springfield, Bellows Falls, Ludlow, and Windsor, VT. While the COVID-19 pandemic forced them to temporarily close down the center's drop-in services, they were able to pivot and increase their capacity for online supports.
The Foundation grant supported the launch of the Recovery Coaches in the Emergency Department program. They started with Mt. Ascutney Hospital and Health Center in October 2019, then added Springfield Hospital in February 2020. Since then, they've been able to provide service to 85 people through this program.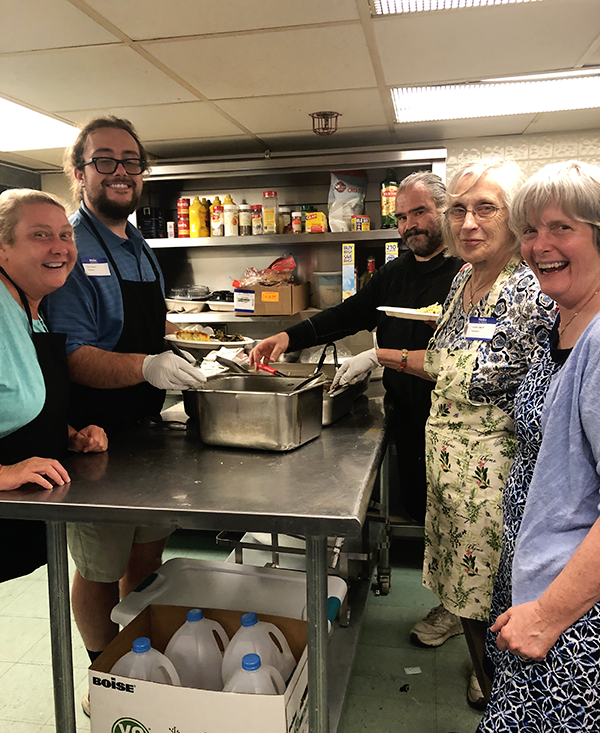 Volunteers in Action (ViA)
Volunteers in Action (ViA) is a community-based service that brings together caring volunteers with elderly, disabled and low-income neighbors who need a helping hand to maintain their health and independence. Those assisted are often frail and/or isolated in their homes. Services are available in Windsor, West Windsor, Reading, Hartland, and Weathersfield, VT, as well as Cornish and Plainfield, NH. Through the 2020 pandemic, ViA was able to maintain a robust involvement in the community by quickly transitioning to an emergency response organization and mobilizing many new volunteers.
Some of the services supported by the grant were transportation to medical appointments, monthly community meals, Meals on Wheels and "Aging in Place" groups. In the past year, thanks to 157 volunteers, ViA provided 24,681 hours of service to 231 households.
WISE
For almost 50 years, WISE has been the sole provider of crisis advocacy and support for victims of gender-based violence within 21 communities of the Upper Connecticut River Valley of New Hampshire and Vermont. WISE offers a confidential and free 24-hour crisis line, peer support groups and workshops, emergency shelter, safety planning and in-person advocacy at hospitals, police stations, court houses and other social service agencies.
Last year's grant helped support the Youth Violence Prevention and Community Education Program. The fall and winter semesters were particularly busy with WISE educators scheduled in multi-session series within 22 different Upper Valley schools. In six months, their team facilitated 469 lessons and reached 5,080 students throughout the Upper Valley. As schools closed as a result of COVID-19 in the winter of 2020, the prevention team created supplemental lessons and activities that could be explored at home for every grrade level kindergarten through high school. The lessons and activities were provided to 17 schools and made readily available on the WISE website, Instagram, and YouTube.
World Under Wonder
World Under Wonder Playhouse is a community arts organization that strives to provide windows to creative exploration through the performing arts. One of the aims of World Under Wonder is to help youth and their families acquire confidence in who they truly are and grow into strong, caring individuals.
The 2019 grant was used to support their summer production of Beauty and the Beast and a small youth production about environmentalism in the Fall. During 2019, World Under Wonder performed 5 plays and many other small events, started a well-attended Live Action Role playing program and hosted 2 high school interns for school credit.
Previous Recipients: 2019 - 2018 - 2017 - 2016 - 2015 - 2014
About the Foundation

Since 2003, our annual Claremont Savings Bank Foundation has awarded grants totaling more than $2,190,000 to local non-profit organizations for a wide range of charitable initiatives. These grants, which typically range from $500 to $5,000 each, help to ensure the success of local programs and projects that benefit all of us as members of the community.
Each year we award grants to help ensure the success of charitable programs and projects dedicated to the betterment of the communities we serve.
Previous Recipients: 2019 - 2018 - 2017 - 2016 - 2015 - 2014