Flex your spending muscle more efficiently and securely than ever before! Now you can use Apple Pay®, Google Pay®, or Samsung Pay® for in-store, online and in-app purchases.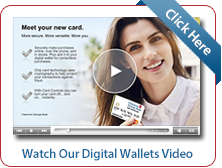 Details
Free service available for most Apple®, Android®, and Samsung® devices
Add your CSB debit card to Apple Pay, Google Pay or Samsung Pay
Make fast and secure purchases
Purchases can be made online, in-app, or in-store
Your card details remain safe
See details on how to add your card using Apple Pay
Or download one of these free apps now: Google Pay, Samsung Pay.
How it Works
With digital wallet services, your actual debit card numbers are never transmitted or shared with merchants. Instead, a unique device account number is assigned, encrypted, and securely stored.
When you make a purchase, the device account number, along with a transaction-specific security code is used to process your payment. Payment is private — the cashier never sees your name, card numbers or security code.
With easy, secure payment available on your smart device, you'll never worry about leaving your wallet at home again!